July 26, 2006
Malkin sucks off Chickenhawks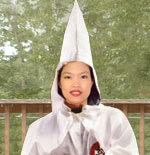 Shelly Malkin, whiner extraordinaire, is once again carrying water for the chickenhawks. This time, she does it with an assist from Jeff Jacoby.
You don't need medical training to express an opinion on healthcare. You don't have to be on the police force to comment on matters of law and order. You don't have to be a parent or a teacher or a graduate to be heard on the educational controversies of the day. You don't have to be a journalist to comment on this or any other column.
Shelly, dumbass, when people call Rummy and Cheney chickenhawks it's to point out that they when they had the chance to go out in the field and fight they weaseled out. No one is saying that civilian control of the military is bad. However, as long as nutters like yourself insist on calling brave men and women (like Max Cleland) cowards, THEN WE ARE GOING TO BLOODY YOUR FUCKING NOSE.
Jesus, Shelly. Have none of you ever been in a fight? It's not fun. Maybe that's the problem with y'all... we're fighting a war today because y'all were a bunch of pussies in high school.
Posted by mcblogger at July 26, 2006 01:26 PM
Trackback Pings
TrackBack URL for this entry:
http://www.mcblogger.com/movabletype/mt-tb.cgi/615
Comments
Post a comment
Thanks for signing in, . Now you can comment. (sign out)
(If you haven't left a comment here before, you may need to be approved by the site owner before your comment will appear. Until then, it won't appear on the entry. Thanks for waiting.)