July 21, 2006
UPDATED - A series of unfortunate pictures...


... of Todd Staples and his Giant


Freak Head...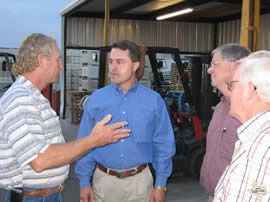 These guys I really feel bad for. I mean, they're having to hang out with Big Head Todd of the Tassel Loafers. That can't be fun for them. I bet he's boring the shit out of them with tales of his super lameness. Like when he went to Whole Foods downtown and saw a chick with blue hair. Gasp!
I think the guy in the purple shirt either wants to kill Todd or is trying to figure out a way to kill himself.
Again with that wicked huge head. Todd's not the smartest guy in the State by a long shot so you have to wonder how defective all that tissue between his ears has to be. You know there is a lot of it. It's a shame he hasn't used it more.
His head is so large and distracting in this picture you almost don't notice the other two people. I think the older guy is someone from Cintra.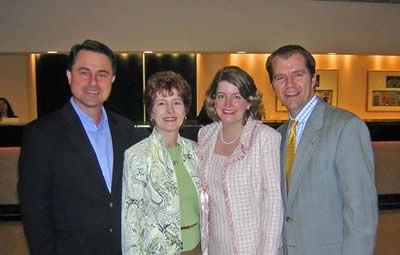 This is a shot of Todd, his wife and Mr. and Mrs. Geeque of Lamont, OK. Todd had just finished begging for money from Mr. Geeque when this picture was taken. The group was on it's way to a fancy dinner at the Golden Corrall (where else?).
See how Todd's head really distracts from his criminal sense of style? In that way it's extremely helpful.
UPDATE: We were informed last night that the woman standing next to Todd isn't his wife. Apparently that woman is Todd's mom. We apologize for the mistake.


Here's a shot of Todd when he was a little boy...




Posted by mcblogger at July 21, 2006 04:12 PM
Trackback Pings
TrackBack URL for this entry:
http://www.mcblogger.com/movabletype/mt-tb.cgi/606
Listed below are links to weblogs that reference UPDATED - A series of unfortunate pictures...:
» cococorurixipehecn from cococorurixipehecn
nice post [Read More]
Tracked on November 12, 2007 03:53 AM
» Low Calorie Diets from Low Calorie Diets
(Redirected from Low-calorie diet) Jump to: navigation, search. also prescribe very low-cal [Read More]
Tracked on March 31, 2008 08:05 PM
Comments
Funniest damn blog post I've read in a long, long time.
Posted by: muse at July 21, 2006 10:24 PM
Thank you!
Posted by: mcblogger at July 22, 2006 02:02 PM
Staples wouldn't know a cow chip if it hit him upside the head. He as knowledgeable about agriculture as boy george. Hmm, come to think of it, I've never seen those two together
Wait, I'm sorry. Should I have posted that in the homosexuals in Lebanon.
Posted by: friedcatfish at July 22, 2006 10:13 PM
The guy on the left in the 3 - person picture is actually my district's Representative, Byron Cook
Posted by: Tim at September 9, 2006 02:25 PM
One chick keeps a hen busy... Lionel
Posted by: Lionel at November 21, 2006 05:17 PM
One chick keeps a hen busy... Lionel
Posted by: Lionel at November 21, 2006 05:17 PM
Post a comment
Thanks for signing in, . Now you can comment. (sign out)
(If you haven't left a comment here before, you may need to be approved by the site owner before your comment will appear. Until then, it won't appear on the entry. Thanks for waiting.)