June 13, 2006
There are planes and then there are really shitty planes
My company loves meetings. Whether it's a conference call or a face to face, they love to get us all together. Unfortunately, they're also cheap ass bastards which is why I flew out last Tuesday morning AT 6. In the morning. I had no idea that even EXISTED as a time to start your day. Certainly a time to go to sleep, but fly? Oh. Hell. No.
Still, I did manage to make the plane (even though I was still on Ed Blustein at 5:15). Actually, I'm being charitable by calling it a plane. You know how people deride ATA and Southwest as the Greyhound of the skies? This was worse. America Worst, evidently in a race to the bottom with Mongolian Airways, has decided to start flying what I can only describe as the Ford Festiva of airplanes, the Canadair Regional Jet.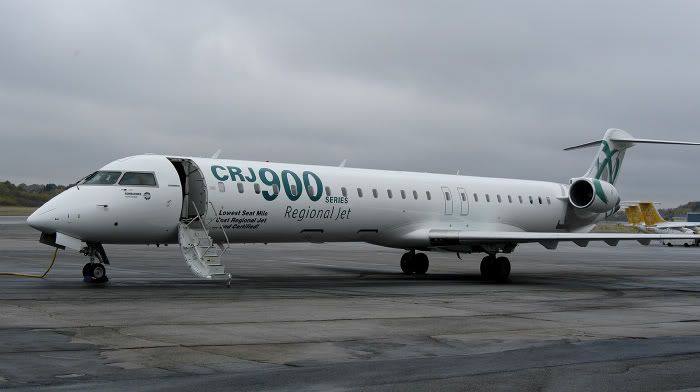 Two seats on either side of an aisle that's really only a path. My seat was next to the aisle. The rowmate was already there, a fellow overflowing the seat, sweating, who smelled faintly of Jim Beam. Fatty McFatterson didn't think we needed the armrest down as it would have disturbed his gelatinous belly (in honesty, I'm not svelte by any stretch of the imagination. However, I CAN fit in an airplane seat).
As I resigned myself to sitting next to the incredible slob, my buddy for the next two hours and twenty minutes, the screaming began. The source was a child... not a baby, a four or at the most five year old girl with a set up lungs a diva would envy. She wasn't happy about the early flight either and I was sharing her displeasure with the entire cabin. I did mention it was 6:00 in the morning, right?
As we got to altitude, I opened my book and read. If you haven't read David Sedaris (or even if you have) you should REALLY grab a copy of Dress Your Family in Corduroy and Denim. It was probably the only thing that kept my mouth shut when my rowmate decided to readjust his position and plant is ample ass squarely in contact with my hip.
Needless to say, I NEEDED A BLOODY MARY WHEN I GOT THE AIRPORT. Oh, and a cigarette. Thank GOD for Sky Harbor and their lax smoking policy. Just a suggestion, if you find yourself connecting through Phoenix stop by the Fox Sports Bar in Terminal A. All I'm saying.
Next 40 hours are mostly a blur. Meetings. A Cocktail party. A good time at a bar in Newport Beach. A lovely night's sleep at the Radison Seventies Porno in Newport Beach (seriously... you gotta see this place. The lobby looks the way you'd think John Holmes' pad would look). More meetings. A trip to the airport and almost losing my Blackberry (thanks SNA Airport Cops!) board the plane and come back to Phoenix where I board (after a ninety minute delay)... come on, you had to see it coming... ANOTHER FUCKING CANADAIR REGIONAL JET 900.
Posted by mcblogger at June 13, 2006 09:33 AM
Trackback Pings
TrackBack URL for this entry:
http://www.mcblogger.com/movabletype/mt-tb.cgi/409
Comments
at least southwest makes fat asses buy two seats
Posted by: David at June 17, 2006 01:28 PM
Post a comment
Thanks for signing in, . Now you can comment. (sign out)
(If you haven't left a comment here before, you may need to be approved by the site owner before your comment will appear. Until then, it won't appear on the entry. Thanks for waiting.)