June 23, 2006
Announcing the official Lamar Smith head Urinal Insert
We here at McBlogger are all the time looking for that perfect thing that says, "Gee. I really like you" or "Sorry I got drunk and puked all over your new floor". Usually we just send booze with a note scribbled on the receipt. We're large like that.
We're also looking for things that really show our feelings for some of our beloved electeds, specifically the Republicans who've made life such a treat for poor kids and the elderly over the last six years. The easiest way would be to pay them back in kind. We thought about cutting back on their benefits, but that's just mean (have you seen what a State Rep makes? Cuting that is like kicking a puppy). We thought (read:drank) long and hard and then McSleaze had it! They've been pissing on us for years; Let's piss on them!
So, we offer you the first in a long line of Urinal Inserts, the Lamar Smith head Urinal Insert.
Lamar's a great fella, truly a pal to his constituents. Unless he's cutting their Social Security or making it easier for companies to weasel out of their pension obligations. At that point, he's dropped trou and with peepee in hand is hosing them. The average constituent has no way to level the playing field and give Lamar the golden shower he so richly deserves (seriously, when he started apologizing for DeLay it was only a matter of time until I did something like this).
Until now!

Ideas for placement? Just one so far (I did mention we were drinking last night, right?) and here it is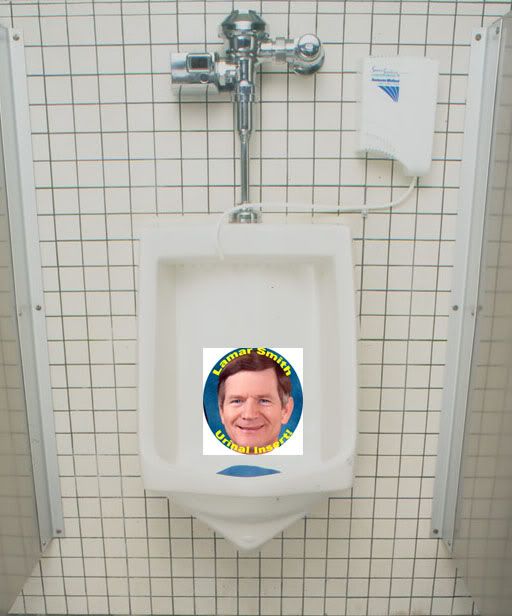 Just a note of warning... if you're printing this on an inkjet make sure you use a color fast ink. Please try to use stock that will survive more than one patron. Other than that, print them out and enjoy! Bonus points if I see and include one of your placements in an installment of SSSSS.
Posted by mcblogger at June 23, 2006 10:30 AM
Trackback Pings
TrackBack URL for this entry:
http://www.mcblogger.com/movabletype/mt-tb.cgi/465
Listed below are links to weblogs that reference Announcing the official Lamar Smith head Urinal Insert:
» human resource consulting from human resource consulting
shit-happens 2004507 Eye of human resource consulting [Read More]
Tracked on June 27, 2007 03:30 PM
Comments
Post a comment
Thanks for signing in, . Now you can comment. (sign out)
(If you haven't left a comment here before, you may need to be approved by the site owner before your comment will appear. Until then, it won't appear on the entry. Thanks for waiting.)