May 19, 2006
Dregs : Castillo guilty, HB 3 is now law, Inflation kills stocks and more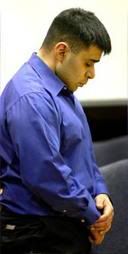 Williamson County jurors today found Fermine Castillo guilty of felony murder and intoxicated manslaughter relating to an accident he had in 2005 which resulted in the death of a migrant farmer.

The Round Rock man faces up to life in prison for the felony murder conviction and up to 20 years in prison for intoxication manslaughter. He is the fifth person in Texas tried on a murder charge, rather than only intoxication manslaughter, after a fatal wreck involving alcohol.

Jurors decided Castillo was drunk when he drove his Jeep Cherokee the wrong way on Interstate 35 near Jarrell and slammed into a van carrying 10 members of the Dyck family, Mennonite migrant farmers who live in Mexico and Canada. The April 21, 2005, wreck killed Isaac Friesen Dyck, 20, and severely injured the remaining nine members of the family.

The jury of eight men and four women deliberated a little less than four hours before finding Castillo guilty.
Photo:Ralph Barrera AMERICAN-STATESMAN

Goodhair signs HB3 into law, then immediately leaves the ceremony to fellate CradDICK and Dewhearse. Jason Embry at the A-AS has the predictably laudatory story along with a little bit of reality at the end


During the next two-year budget, the Legislative Budget Board predicts, the property-tax cuts and school-spending measures will cost $10.5 billion more than the new revenue will bring in. That's caused some to warn that lawmakers will have to drastically cut services or raise the sales tax.
US Stocks end lower ... AGAIN as the reality of higher inflation (and subsequently higher interest rates) begins to set in.
Greenspan says the housing boom is over, throwing more cold water on an already bad economic outloook.
"This has been quite an extraordinary boom," Greenspan said in remarks at the Bond Market Association's 30th anniversary dinner in New York. "Home sales are off, applications are off, everything is going in the same direction. The boom is over, and you can say that with a fairly strong degree of confidence."
Posted by mcblogger at May 19, 2006 01:17 AM
Trackback Pings
TrackBack URL for this entry:
http://www.mcblogger.com/movabletype/mt-tb.cgi/323
Listed below are links to weblogs that reference Dregs : Castillo guilty, HB 3 is now law, Inflation kills stocks and more:
» ephedrine mini from ephedrine mini
[Read More]
Tracked on January 20, 2007 02:15 AM
» zobokocicecn from zobokocicecn
nice post [Read More]
Tracked on November 14, 2007 01:52 AM
Comments
Post a comment
Thanks for signing in, . Now you can comment. (sign out)
(If you haven't left a comment here before, you may need to be approved by the site owner before your comment will appear. Until then, it won't appear on the entry. Thanks for waiting.)