May 17, 2006
Bad PR from the folks at AT&T
From a friend in Austin who shall remain nameless. Because he/she is a freak about his/her name being mentioned on a blog. Seriously.
AT&T sent out this mailer to customers recently, as in the last few days... as the story about the NSA call tracking was breaking. From AmericaBlog:
For those of you who are a little slow on the irony side of things, read what AT&T wrote on the front of the envelope. You'll recall that AT&T is one of three companies alleged to have voluntarily helped the NSA spy on its customers.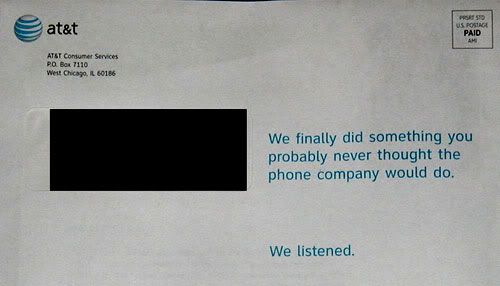 Posted by mcblogger at May 17, 2006 09:45 AM
Trackback Pings
TrackBack URL for this entry:
http://www.mcblogger.com/movabletype/mt-tb.cgi/318
Comments
Post a comment
Thanks for signing in, . Now you can comment. (sign out)
(If you haven't left a comment here before, you may need to be approved by the site owner before your comment will appear. Until then, it won't appear on the entry. Thanks for waiting.)