February 16, 2006
Oh, won't someone rid us of Madla...
There is a horrible state senator in Texas. His name is Frank Madla. He runs as a Democrat and he is, if your definition of a Democrat is someone in the mold of Zell Miller or Henry Cuellar. He's too big a pussy to run outright as a Republican because he'd never get elected from his district. Yeah, basically he's a dick.
Karl-Thomas Musselman over at BurntOrangeReport has a great piece up about dear old Frank. The video is a must see for everyone who has ever wanted to see a DINO skewered by careless words out of his own mouth.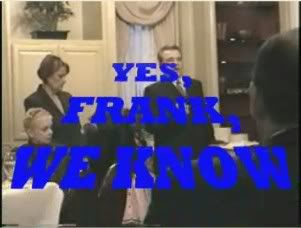 Oh yes, we DO, Frank. And we can't wait for Carlos Uresti to kick your ass on the 7th.
Posted by mcblogger at February 16, 2006 11:56 AM
Trackback Pings
TrackBack URL for this entry:
http://www.mcblogger.com/movabletype/mt-tb.cgi/97
Listed below are links to weblogs that reference Oh, won't someone rid us of Madla...:
» Frank Madla is the suck... from McBlogger.com:Clean and Sparkling!
You might remember we recently mentioned that shithead TX State Senator, Frank Madla. Well, it turns out that the folks at the Uresti campaign have one hell of a commercial their media people put together. http://www.mcblogger.com/archives/2006/02/oh_w... [Read More]
Tracked on February 27, 2006 09:38 PM
Comments
8e939778e968 Noce site bachelorette cfnm bachelorette cfnm
teenie girls teenie girls
girl poop girl poop
sexy teen girls sexy teen girls
male escorts male escorts
big booty big booty
ftv girls free ftv girls free
russian virgins russian virgins
nice ass nice ass
milf camps milf camps

Posted by: bachelorette cfnm at November 24, 2006 03:22 AM
8a54b44868f9 Great work homemade sex videos homemade sex videos
pussy fisting pussy fisting
uniform porn uniform porn
swingers party swingers party
freeporn pics freeporn pics
free xxx porn free xxx porn
nude girls nude girls
disney porn land disney porn land
free femdom stories free femdom stories
free lesbian porno free lesbian porno

Posted by: homemade sex videos at December 18, 2006 12:46 PM
Post a comment
Thanks for signing in, . Now you can comment. (sign out)
(If you haven't left a comment here before, you may need to be approved by the site owner before your comment will appear. Until then, it won't appear on the entry. Thanks for waiting.)